Fill in Fridays
1. Ahhhh,
I am officially finished with my long term 7 Th grade English gig
.
2.
Finished
preparing
lesson plans and ready for quality time with my family!
3. Creating a
feast for Christmas Eve has begun
.
4.
17 days of pure
relaxation.
5. Kick start
Christmas
.
6.
" What?
End of the world,
" Lucie said, "but it's "Pyjama Day" at school."
7. And as for the weekend, tonight I'm looking forward to
Christmas movies with the kids,
tomorrow my plans include
our annual family gift exchange party
and Sunday, I want to
have everything ready for Christmas Eve
!
Can you believe I won all of these handmade primitive dolls from Dulaney Woods Treasures? Wonderful blog and beautiful Etsy shop!!


What an amazing package to receive. My best Christmas present so far!!
Beautiful craftsmanship...I just love Santa's face. He is very Special....Look at that sweet reindeer!! Thank you Theresa for the very special package! You are amazing!
I also received this beautiful necklace
Diane at Lavender Dreams too
. I just love her. She was giving away one of Shanti J's beautiful pieces of jewelry. I also recieved several pretty cards and Christmas gift tags from Diane....I have used them all. They were so sweet:
Thanks Diane!!
I also had a lot of fun with Heatherly Loves' fun Christmas Mug Swap!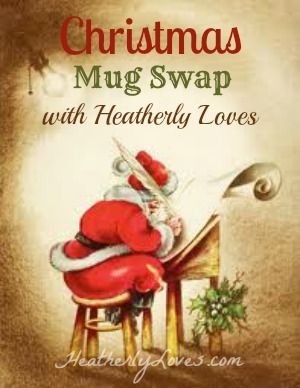 She went far above "Mug" swap. She included the sweetest card with all my treasures that read:
The Santa to grace your tree and another little book for your collection, a little batch of cookies for a sweet little treat and a red towel to clean up after baking.
Isn't that the sweetest???
I have met so many wonderful people blogging.......Merry Christmas to all of you!
Karen
I am linky up with: