That feeling after Christmas dinner. Sluggish and full...
The table is cleared and ready for some coffee or tea.
That's why it's lovely to have an early dinner...
You might not have room just yet for pie...
Maybe a candied Chestnut or bit of chocolate with some nice warm coffee or tea?
This is the time of year to bring on the sparkle and glitz. Even your sugar should be special.
It's a moment of the cook to take a break, relax with guests and recharge.
I found this great dessert set at a garage sale. Eight large mugs and eight pretty plates for a total of $6. All in new condition. Two years later found the teapot at Goodwill. It's currently in my Etsy shop...I think I need to keep it. Looks great with this dessert set!
Plan ahead my friends and have everything ready on a sidebar, buffet or on trays ready to bring out to the table.
I love my pretty sugar cubes From France. I chose my silver-plate 1980 DEUT flatware from Oneida. I felt these plates needed a modern flair.
For some, coffee and tea just won't do...We have that covered here as well. Nothing like a little digestive after a large meal...a little "Hors-d'age" (over twenty years old) Armagnac should do the trick. What ever your choice, Ching ching and Merry Christmas!
Bisous,
I am linking up with: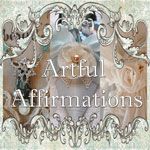 Karen