In my school district you can sub a full day or a half day. I got half day job at the only school that starts late. So I got a dream job from 8:45 am until 11:45 am. Allowing a few teachers to go to the office for an evaluation. They were "finished" with me at 11 am. I was one happy camper.
here.
http://www.shopgoodwill.com/
I was tickled...they were listed as burgundy, but the photo showed them as a bright orange. So they didn't get many bids. I think my winning bid was $23. Danskos are one of the only shoes I can wear and run about $130. I don't think these have ever been worn. They list thousands of new things a day. Please don't blame me if you get addicted too.
So...I am happy housewife today. Something I don't get to do a lot. It's only 12:33 as write this and I am smiling all the way!
Only about a week left of school and then, I'll be a happy housewife for 2 1/2 months! Can't wait, because I miss my blogging friends! Off to make my coconut pie and relish in this day!
Bisous,
Karen
I am sharing my great finds with:
http://thethriftygroove.blogspot.com/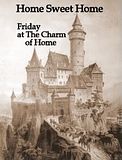 http://frenchcountrycottage.blogspot.com/