Today I am sharing part of my Villeroy and Boch Blue and white, Casa Azul wedding service.
Perfect for a lazy Sunday morning. The Pretty blues brighten any space and It feels light and fresh.
The decorative salad/dessert plates are my favorite.
I picked my wedding dishes out in the summer of 2000, in Paris at the French department store, Au Printemps.
Au Printemps, Haussman Boulevard, Paris
As romantic as it sounds, for some reason (that I can't recall now) I had a three hour time period in which to pick out my service. I was not with my groom-to-be but instead, with my father-in-law to be (c'est la vie!). I just kept thinking....keep it classic.
I am almost certain these beautiful sugars I receive every year from my Mother-in-law come from the same area in Paris. Either, Au Printemps or Galleries Lafayette which is right next door. I love my Canasuc and they are always fun to serve at any party.
I am using the salad/dessert plates for our toast and oranges. These gourgeous oranges came from my mother's neighbor. The are fresh and delicious.
I found these napkin rings at a small estate sale, here in Woodland. I don't always remember where I get things, but the wonderful old man that was there is hard to forget. He was all alone. No other family members helping him. I am sure his wife had passed away and he needed to move on and out. I am usually in such a hurry to rush from one sale to the next, but having just lost my father the year before, I felt connected to him in some way. He showed me around his house and told me stories about all his belongings that were now tagged and ready to be handed off to strangers. I was friendly and took my time. I liked him and felt for him. We made small talk and I could tell he enjoyed our time together. He took me outside to show me his collection of stones. Then into the garage where he had an amazing workshop. He cut the stone for a living. He offer me two beautiful stones. One for Lucas and one for Lucie. His last name also started with an"R" like us. We both thought that was funny and I bought these napkin rings from him with our initials. Less than month a later I saw his house had sold. The garage door was open and there was no sign of his workshop. He was a sweet man I appreciate our exchange to this day. What may have been a part of his wedding service, on his table years ago, is now is a part of mine.
I have a twelve piece setting of my wedding service. A beautiful covered vegetable dish, two big platters, bread plates, salt and pepper. When it was time to leave France, I had NO idea how I was going to get my dishes back to The States.
In 2003, Stan came over to stay with my parents and find a job. Lucas was almost 2 and I was 7 months pregnant with Lucie. I had to stay in France alone to deliver Lucie. I am a very strong person and we had a plan. Stan did not meet Lucie until she was already a month and half old. There were definitely tears at the San Francisco airport that day. We couldn't afford to have the dishes shipped.
A week before I left, a wonderful Scottish couple working for a big company at the shipyard (Stan built cruise ships in France) offered to have our dishes professionally packed and sent via their company using their travel expenses. I was so fortunate. To this day, I can't believe how lucky I got. It cost us nothing and everything arrived in perfect shape.
I am going to bringing these out more this year....even if it's just for a simple coffee and toast breakfast with Stany.
Hope you are having a wonderful Sunday morning!
Bisous!!
Karen
I am linking up with: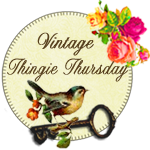 Come join the party!