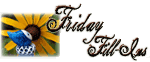 1.
In New England People
have accents, love lighthouses and eat a lot of lobster. I have never been, but this is what comes to mind. Don't take it personally, I am from California....I know what people think of us!
2. There is
LOTS of snow

in California
, but only in the mountains. In the valley it's been very sunny and warm.
3.
Ahhhh
,
my paycheck was in the mail today.
4. Sneaking away to a casino with my husband
is my favorite thing to do nowadays.
I think it's because the kids are young and we feel wild. LOL
5.
Last night, I had a dream about
an old house. I dream about this house a lot. It's not a house I am familiar with, only in my dreams. It's dark and there are many rooms. I can picture the wallpaper. I am young in the house. Many people from my past are there. I only remember bits here and there. Now you're thinking, yep. She's from California....weird.
6. Today I only had three classes and was finished subbing at 10:20 a.m.
which is the perfect way to
start my weekend.
7.
And as for the weekend, tonight I'm looking forward to
Sharing the bottle of Mumm sparkling white wine (those darn French won't let us call it Champagne) with Stany and watching all the movies I got from Red Box. He has never seen "The Help" yet,
tomorrow my plans include
Taking Lucas to his Baskeball game, getting Lucie's passport renewed, mailing off an Etsy shipment
and Sunday, I want to
RELAX (and secretly I'd love to sneak away to the casino again. It's too convenient that Grandma lives 5 minutes away from it!)
Happy Weekend everyone!
Bisous,
Karen