I wasn't going to go today. I wasn't. No. No. No. I blame it on my mom. As I was driving home, after dropping the kids off at camp this morning, she reminded that my Good Will would be opening in 15 minutes. She joked that I should go before everyone grabs it all. That's all it took.
Cannot keep it all, but I have my favorites.
Come to mamma....this one is mine.
Drool. I love all of this. Tempted to keep the Johson Bros. Transferware. Maybe even start to collect the random browns. I love the blue Christmas tree piece....can I keep it with the INTENTION of re-doing my house in blues??
Fantastic Chrome Cake keeper and Divided Pyrex...
LOVE this. Tempted to keep it.....
WHy do I love him? And better yet, who is he?
Other side of my mysterious teapot. I really like this quirky guy.
Can you picture your silver in this on a buffet table? Sugar bowl for tea??
Milk glass shakers.....
Oh, Roger. Why? I try. I try to steer clear of you. Still, I always want more.
Art Deco love.
Waterford Linens....yes, I will peek inside:
Perfect for my blue and white china!!! Says they can be washed. I think I'll try. Tempted to take to the cleaners. In very good shape. I can be sure my mother was not there with red wine.
Okay......a few other goodies. Now, must clean it all, post some to Esty and hid it all from husband (and Hoarders)
I am joining the Colorado Lady for Vintage Thingies Thursday!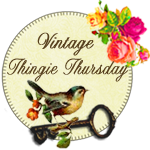 And....I am linking up with:
Feathered Nest Friday at
French Country Cottage